[This review contains no spoilers. You're safe here!!]
After the endless behind-the-scenes production problems that it had to endure, including the firing of the original directors and endless reshoots, Solo: A Star Wars Story is finally in theaters. The movie explores Han Solo's origins and his adventures prior to his first appearance in A New Hope, and features a few familiar faces (Han, Lando, and Chewie) and plenty of new ones as well.
Every single actor in the movie gives a solid performance, including Alden Ehrenreich, who definitely nails a lot of the gestures, mannerisms, and vocal inflections of our beloved scoundrel from the original Star Wars trilogy. Emilia Clarke, Woody Harrelson, Paul Bettany, and Thandie Newton are all very good as well, and I liked the banter between their characters, which is definitely a result of excellent casting. However, Donald Glover gives the best performance of the entire movie. He truly embodies the character of Lando; he has the same charisma and swagger that made the character so likable in the original trilogy.
I also greatly enjoyed all of the diverse locations, weird creatures, and scrappy little corners of the Star Wars galaxy that this movie showcases. The universe explored in Solo looks dirty and used, which is exactly the way it should look. It definitely recaptures the look and feel of the original trilogy, which is awesome. It's more Rogue One than it is Force Awakens or Last Jedi, at least in regards to the production design.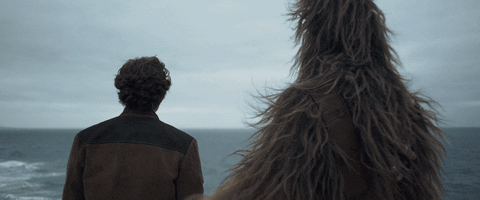 Unfortunately, despite its redemptive qualities, this movie feels extremely hollow, and does not portray the character of Han Solo correctly. As I mentioned, Alden is very good in the role, and he's incredibly charismatic. But Han Solo is portrayed as an extremely likable presence in the movie, rather than the scoundrel that he is in A New Hope. Sure, in Solo he's cocky, in over his head, and a bit smug at times, but the character in A New Hope is not portrayed as a good guy. In fact, he's quite the opposite in that movie; he's a scoundrel who shows loyalty to no one and only cares about money. There is no way the Han Solo in this movie could be described as a "scoundrel." Sure, he does some things that aren't exactly legal in this universe, but that doesn't make him a scoundrel. The Han in this movie reminds me more of Star-Lord from the Guardians of the Galaxy movies than the Han from the original movies and Force Awakens. I think if someone watches this movie without having ever seen the original trilogy, they will be 100% fine with the character. In fact, if the character was not named Han Solo, and was a completely different guy, I would have thought he was a great main character. Also, I'm still not really on board with Han being recast. Harrison Ford is Han Solo, and vice versa. I think he's far too iconic of a character to mess around with like that, especially because people have watched Harrison play the character for over forty years. I love the way Han is portrayed in Force Awakens, and I think he feels like classic Han in that movie. The character in Solo does not. Also, I find it rather odd that they decided to go back in time and showcase the character again after he was killed off in Force Awakens.
The relationship between Han and Chewie is perfectly fine, but it doesn't necessarily add a ton of depth to what we've already seen from those two characters. They have some fun moments together I suppose, but everything between them felt pretty weightless. They have some great back-and-forth banter, with some truly excellent comedy, but there's nothing particularly special or unique about it. Han meeting Lando is a ton of fun, and is handled pretty well, but I needed more interactions between those characters. Lando doesn't get nearly enough screentime in this movie, despite being the most well-represented character in the entire thing. Emilia Clarke's Q'ira is perfectly fine; she's pretty likable and is a suitable counterpart to Han Solo. I also like Beckett, who is played by Woody Harrelson. Again, he's pretty likable and charismatic. The characters in Solo are certainly more charismatic and fun than the characters in, say, Rogue One, but they lack the depth of the characters in the original trilogy and even Episodes 7 and 8. Because of this, many of the moments that are supposed to be emotional come off as flat and forced. None of the characters have any real development, either. Han is basically the same guy from start-to-finish, and doesn't change in any significant way. The villains in the movie didn't do much for me either.
Look, this is not an awful movie. I found the first hour-and-a-half to be very entertaining, with fun action and good banter, but the last thirty minutes somewhat tank the movie. They feel incredibly tedious, with too many references to other movies that are extremely forced. Enfys Nest, a villan with a cool costume that sporadically shows up, is handled so poorly during the third act that I honestly wish the character was not in the movie at all. There are other events that happen in the third act that are also very predictable and do not carry the emotional weight that the writers intended. All of the little quests featuring these characters are very fun, though, and I think the movie's fast pace is a redemptive quality. I was a bit bored during that whole train heist sequence that is shown in the trailer; it feels inconsequential and not particularly interesting, despite its well-executed action. However, I was generally pretty entertained for the rest of the runtime. It's the handling of Han and the last thirty minutes that kinda ruined the movie in a way. Generally, I feel like there's no real payoff, and Han is just a nice guy throughout the entire movie without any sort of change.
The movie is also laden with references and fan service, which gets extremely old after a while. There are even exact repetitions from lines in the original trilogy, which was abrasive and frustrating. I don't want Star Wars movies to reference other movies anymore. I'm sick of that. These movies need to be willing to do something new in order for this franchise to be successful. Surprisingly, I actually think I like The Last Jedi more than this movie. Solo is more structurally sound, but Last Jedi actually has great character development, moments that are emotionally impactful, and new expansions on what we already know. Solo does not have any of these things, but that's not even the reason why I didn't care for the movie. It's mostly the portrayal of Han and the story's overall lack of purpose. If Han is not going to develop as a character, then why even tell this story at all?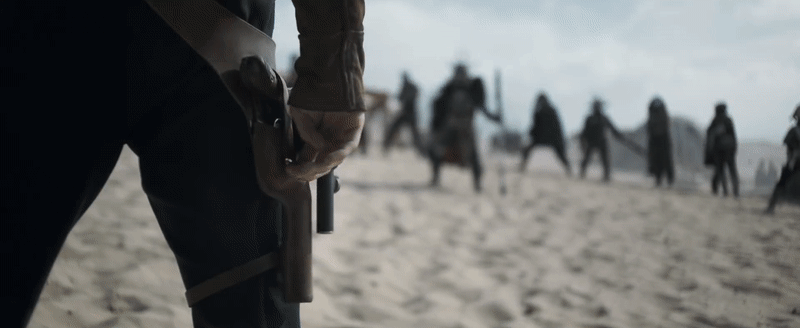 All in all, this movie is perfectly fine. It's alright. Is it the horrible movie that people are expecting it to be? Nope. I'm pretty mixed on this one, which is a shame because it had potential. I was pretty entertained by the majority of the movie, but I felt very detached from many of the events that occur, and Han Solo is not portrayed the way he deserves to be.
Grade: C+
↓ Leave a comment below to tell me what you thought about Solo: A Star Wars Story! ↓